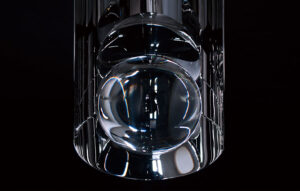 1783年,法国建筑理论家Etienne-Louis Boullée描绘出不可能实现的建筑-牛顿纪念碑。Boullée把对牛顿的赞誉毫无保留地表达到建筑上,创造出一个存放牛顿哲学成就的精神圣殿。
艺术家刘潇从未能实现的建筑艺术作品中找到灵感,行走意大利,思考过去即是未来,有形与无形,不同物体反射到不同层次空间的广阔思维。反映,是一种互动状态的间接表达。
单置身于某种镜像空间,人与物之间便有了幻象一般的生命体,不同的物体因为视角移动而变幻无常。多个物体,多种灵魂。
于弯曲的镜像面前,面对映像,似密室一样包裹自我,多个扭曲的幻影直接或间接地表达着。
犹如精神之所。
源于幻象,是艺术家所秉承的创造哲学。
弧形镜面不锈钢所特有的幻视感与未来主义,光、玻璃和金属相互反射作用下碰撞出的音调,安静而躁动。
In 1783, the French architectural theorist Étienne-Louis Boullée drafted the architecture that was impossible to build – The Newton Monument. Boullée reflected his praise of Newton to the architecture without reserve, creating a spiritual shrine to preserve Newton's achievements of philosophy.
Shaw Liu finds inspiration from the unrealized architectural artworks. Walking on the streets in Italy, Shaw Liu reflected on the past and the future, visible and invisible, and the extensive thought on the reflection of different objects in different hierarchical space.
Reflection is indirect expression of the state of an interaction.
When exposed to some kind of mirrored space, there will be a phantom-like life between people and the substance, and the objects become fickle because of the change of perspectives.
Multiple objects, various souls.
In front of the curved mirror image, facing the reflection, the true image is submerged in a closed chamber, a number of distorted illusions express themselves directly or indirectly.
Just like a place for the spirit.
"Derived from the illusion" is the design philosophy that the designer has been always adhering to.
The unique sense of illusion and the futurism from the arc-shaped stainless steel with mirror finishing and the undersound from the collision of the interflection of the light, the glass and the metal, are quiet and restless.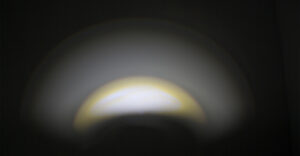 – 深度自述 | DEPTH STATEMENT –
从个人感官特质来说,我十分沉迷于迷幻的视觉效果,这种视觉力量对我来说是一种无法逃避的自我重塑,因此,产品中细微敏感隐性力量的表达是我的初衷。
"源于幻象"也是我一直所秉承的创作哲学。
SANCTUARY取义精神之所,引申为光的避难所,光象征人的精神信仰,也是精神的藏身处。灵感源于Étienne-Louis Boullée在1783年为牛顿设计的纪念堂,内部圆形穹顶星星点点的镂空象征着牛顿的精神永存,使后人得以瞻仰,但这仅仅是草稿而已,却从未建成,这位空想家的作品让我心生遗憾,我希望以此光辉为灵感呈现我所认为的精神之所,我记起每晚工作回家,看到皓月当空则会心生满足,于是我想将金色的月晕呈现于作品中。
I'm fascinated by visual effects of hallucination from my personal sensory perspective. The visual power that comes along, to me is a form of inescapable self restructuring, and hence expressing the hidden, subtle and refined power through my products is my main design motivation.
"Derived from illusion"is the design philosophy I have been always adhering to.
SANCTUARY was inspired by the memorial hall designed by Étienne-Louis Boullée for Newton in 1783. The hollowing of stars in the dome symbolizes the eternal spirit of Newton. The brilliance of stars makes it possible for people to look forward to it. But it is only a draft and has never been built. The work of this dreamer has made me regret. I hope that this brilliance will serve as a symbol of Newton's spirit, inspiration presents what I think is spiritual. I remember working home every night and being gratified to see the bright moon in the sky, so I want to leave the golden moon halo in my works.